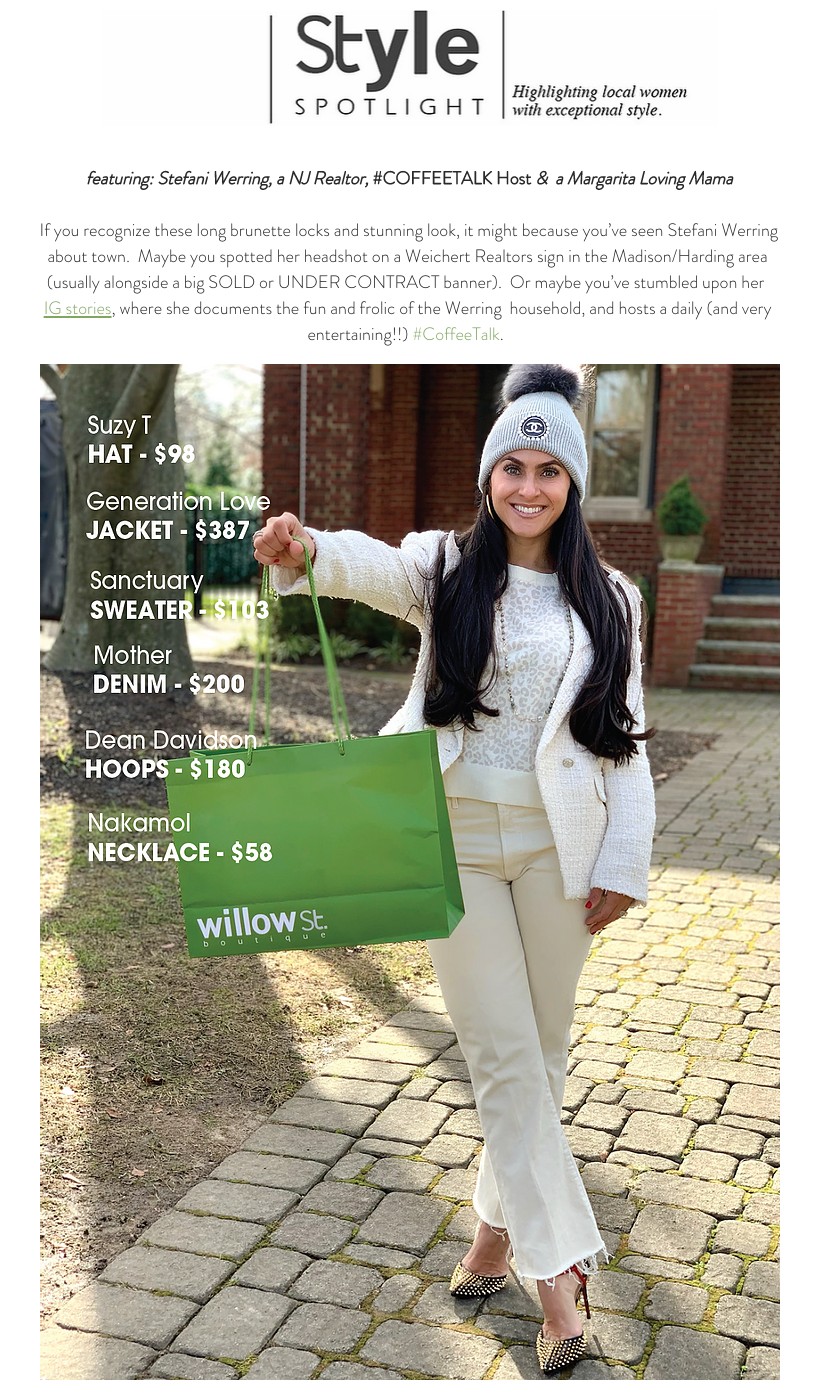 If you recognize these long brunette locks and stunning look, it might because you've seen Stefani Werring about town. Maybe you spotted her headshot on a Weichert Realtors sign in the Madison/Harding area (usually alongside a big SOLD or UNDER CONTRACT banner). Or maybe you've stumbled upon her 
IG stories
, where she documents the fun and frolic of the Werring household, and hosts a daily (and very entertaining!!) 
#CoffeeTalk
.
featuring: Stefani Werring, a NJ Realtor, #COFFEETALK Host & a Margarita Loving Mama
If you recognize these long brunette locks and stunning look, it might because you've seen Stefani Werring about town. Maybe you spotted her headshot on a Weichert Realtors sign in the Madison/Harding area (usually alongside a big SOLD or UNDER CONTRACT banner). Or maybe you've stumbled upon her IG stories, where she documents the fun and frolic of the Werring household, and hosts a daily (and very entertaining!!) #CoffeeTalk.
TO ORDER/HOLD ANY FEATURED ITEMS CALL 973-267-6510
As if being a wife, mother of two young girls and a hustling real estate agent isn't enough on one mama's plate, Stefani also hosts a weekly Happy Hour segment with the entrepreneurial women's group, Morphmom, where she mixes up mean margaritas or serves up a little fireside #woinetoime by night as their resident mixologist.
TO ORDER/HOLD ANY FEATURED ITEMS CALL 973-267-6510
Stefani's style is always chic, right on-trend and pulled together. She always rocks a strong look and never says no to sporting a designer logo. Her favorites labels (besides the luxe LV, GG, YSL and CC, of course) include Frame, Amanda Uprichard, Generation Love and Drew. A little pop of fur, leopard as a neutral and some sparkle & bling are always staples in her wardrobe.
TO ORDER/HOLD ANY FEATURED ITEMS CALL 973-267-6510
Whether she's grabbing her morning oat milk latte at Sunday Motor Co. or closing deals, you can always count on Stefani for delivering a daily dose of fashion and fun.
Thank you to Nick, the owner of Sunday Motor Co. Cafe in Madison, NJ for hosting this super fun photo shoot. Stefani recently helped Nick and his family to purchase their dream home in Harding, NJ!
To connect with Stefani... check her out on her Instagram @stefani_werring.
Sunday Motor Club is an Automotive Inspired Cafe serving thoughtful, quality food and beverage from 7am-4pm to the Madison Borough and surrounding areas.
See some items you want in this post? Call a stylist at 973-267-6510 to order/hold!